The following are excerpts from the original article published by Ceasefire Magazine.
On the dawn of April 8, 2011, Abdulhadi Al-Khawaja was abducted from his home by masked police officers and armed men in civilian clothing. He was kicked, brutally beaten to the ground, and pushed down the stairs to roll in his own blood. His family watched on helplessly begging for the beating to stop. As he began to lose consciousness, the last words they heard from their father on that night were "Stop, I can't breath!" To the outside world, these dawn house raids may sound horrific. For Bahraini activists, this is the expected system of arrest, Al Khalifa style.
Since then, Mr Al-Khawaja, along with other leading activists, was tried before a military tribunal and given a life sentence for allegedly "organizing and managing a terrorist organization" (read: Directing a human rights centre). Serving a sentence of this kind meant Al-Khawaja has spent much of his time as an inmate at the hospital, rather than the prison. The Bahrain Independent Commission of Inquiry (BICI) report documents Mr. Al-Khawaja's subjection to physical and sexual torture as "Case No.8." His injuries were so severe that at one point he required a four-hour surgical procedure to restore his fractured jawbone. Blindfolded, and tightly handcuffed to the hospital bed, he was prematurely discharged against medical orders, and then received the usual dosage of nightly beatings in prison as he tried to recover. As chilling as his own life has become, he states that the worst part of his detention is hearing other people being tortured while being unable to help.
Today, Mr. Al-Khawaja has spent the past 69 days on a hunger strike, which he has declared as "Freedom or Death." Doctors warn that his condition is critical, and his family and lawyer have not heard from him for the past two days. I hesitate to speculate, but he could very well be dead as I write this. His last words to his daughter were, "It is best to die in dignity, than to ever live in humiliation". For the people of Bahrain, Abdulhadi Al-Khawaja is the embodied reality of their resistance. His sacrifice is an ultimate struggle to merely be recognized as human.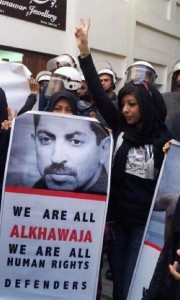 Abdulhadi Al-Khawaja, on his 69th day of hunger strike, is the supreme test to the government's toleration of nonviolent protests. His strike presents a challenge for the regime to confess its disregard for civil liberties, and exposes the regimes fabricated myths of national security. The strategies deployed by the resistance were never a concerning issue for the tyrants of this land; the real threat to the regime has been the very existence of a resistance, albeit the resistance's tactics of choice.
…
The question now is, if the regime is not willing to negotiate with a man who has practiced the ultimate peaceful sacrifice by starving himself to be free, then what other peaceful tactics is the regime willing to negotiate on?
…
On February 13, a week into Mr Al-Khawaja's hunger strike, the King of Bahrain told Der Spiegel magazine that: "There are no political prisoners as such in Bahrain. People are not arrested because they express their views, we only have criminals." It's funny that this self-appointed King would say that, having apparently "accepted" the results of his commissioned BICI report, and having apparently read Al-Khawaja's "Case No.8". But other than living up to his name as 'The King who breaks promises," the real matter of concern is how does one negotiate the release of a political prisoner when the authority of the state is unwilling to recognize the prisoner's status?
As Mr Al-Khawaja's condition is rapidly deteriorating, protests have recently erupted globally in solidarity with his strike. The Danish Foreign Minister Villy Soevnda recently proposed the extradition of Mr. Al-Khawaja to Denmark for urgent necessary treatment on the basis of Mr. Al-Khawaja's dual Danish-Bahraini citizenship. Although the proposal was rejected, the U.N. Secretary General Ban Ki Moon recently urged Bahrain to reconsider the Danish proposal to transfer Mr. Al-Khawaja to Denmark.
The U.N.'s efforts may have come too late to save Al-Khawaja's life, but Al-Khawaja's words to his daughter shall linger on in the minds of many for decades to come, "It is best to die in dignity, than to ever live in humiliation." If the worst is to come true, Abdulhadi Al-Khawaja's spirit shall live in dignity, and the world shall forever live in shame.
See also John Lubbock's report: "F1 urged to rethink Bahrain GP, as hunger striker nears death"
For updates and info please visit the Bahrain Centre for Human Rights website.
The full full text of this piece can be read at Ceasefire Magazine.
See the Q&A for more background information on Bahrain's revolution: